Iatrogenic pseudoaneurysm of inferior epigastric artery: not only a surgical complication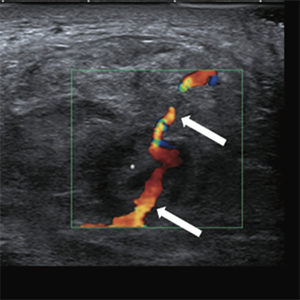 Submitted: 14 March 2022
Accepted: 21 June 2022
Published:
14 July 2022
Abstract views:
44
PDF:
16
Supplementary Video:
19
Publisher's note
All claims expressed in this article are solely those of the authors and do not necessarily represent those of their affiliated organizations, or those of the publisher, the editors and the reviewers. Any product that may be evaluated in this article or claim that may be made by its manufacturer is not guaranteed or endorsed by the publisher.
A 77-year-old lady with a longstanding scleroderma, presented to the Emergency Department for a state of severe malnutrition and fluid dysphagia. On physical examination, she presented an abdominal palpable swelling, with an associated large, posterior ecchymosis. A pseudoaneurysm of the right inferior epigastric artery was diagnosed on a color Doppler ultrasound examination. After collegial discussion with the surgical and interventional-radiologist team, a percutaneous exclusion of the pseudoaneurysm through thrombin injection was successfully performed, and no complications were reported. After a thorough anamnestic record, the possible cause of the pseudoaneurysm was discovered: a few days before hospital admission the general practitioner did some intradermoclysis in the abdominal wall to hydrate the patient, damaging the inferior epigastric artery wall with subsequent development of the pseudoaneurysm. The patient completely recovered, returned home after two weeks in a subacute facility, and is awaiting evaluation for the scleroderma follow up from a rheumatologist.
Wong C, Merkur H. Inferior epigastric artery: surface anatomy, prevention and management of injury. Aust Nz J Obstet Gyn 2016;56:137-41. DOI: https://doi.org/10.1111/ajo.12426
Edwards KJ, Avula SK, Babu BDH, England RA. Inferior epigastric artery pseudoaneurysms. Ann R Coll Surg Engl 2015;97:255-8. DOI: https://doi.org/10.1308/003588414X14055925058076
Venkatesh SK, Reynolds VB, Sidhu HR, Maran PK. Spontaneous inferior epigastric artery pseudoaneurysm. Wiley Periodicals, Inc. J Clin Ultrasound 2010;38:259-62. DOI: https://doi.org/10.1002/jcu.20692
Werner M, Bernheim J, Witz M. Pseudoaneurysm of the inferior epigastric artery: a rare complication of Tenckhoff catheter removal. Nephrol Dial Transplant 1999;14:1297-9. DOI: https://doi.org/10.1093/ndt/14.5.1297
Shabani GS, Baxter GM. Inferior epigastric artery pseudoaneurysm: ultrasound diagnosis and treatment with percutaneous thrombin. Br J Radiol 2002;75:689-91. DOI: https://doi.org/10.1259/bjr.75.896.750689
Curti M, Piacentino F, Fontana F, et al. EVAR follow-up with ultrasound superb microvascular imaging (SMI) Compared to CEUS and CT angiography for detection of Type II Endoleak. Diagnostics (Basel) 2022;12:526. DOI: https://doi.org/10.3390/diagnostics12020526
Corso, R., Coppola, A. ., Grazioli, S. ., Dedionigi, C. ., Tandurella, N. ., Venturini, M. ., & Dentali, F. . (2022). Iatrogenic pseudoaneurysm of inferior epigastric artery: not only a surgical complication. Bleeding, Thrombosis, and Vascular Biology, 1(2). https://doi.org/10.4081/btvb.2022.25
Copyright (c) 2022 The Author(s)
This work is licensed under a Creative Commons Attribution-NonCommercial 4.0 International License.
PAGEPress has chosen to apply the Creative Commons Attribution NonCommercial 4.0 International License (CC BY-NC 4.0) to all manuscripts to be published.